Comfortable and Inclusive Outdoor Seating



From the Graber Manufacturing, Inc. 2022 Webinar Series
In this recording of Thomas Steele's Comfortable and Inclusive Outdoor Seating webinar, we go into detail about the qualities of ADA-compliant outdoor furnishings and provided specific examples of Thomas Steele furniture that fits this criteria. In addition, we also discuss the benefits of creating accessible environments that everyone can utilize! It was originally recorded on July 6th, 2022.
Host: Ryan Colwell
Facilitator: Chantel Pivotto
Panelists: Kaitlyn Ellerman, Larry Seiple
What is the ADA?
The Americans with Disability Act, or ADA for short, is a law originally passed by U.S. Congress and signed into law in 1990. It was created to protect the rights of people with disabilities and prevent discrimination against them in the areas of employment, government activities, transportation, commercial establishments, and many other aspects of American life.   
Types of Spaces Are Regulated by the ADA
Broadly speaking, the ADA affects all indoor and outdoor public spaces. The law puts requirements in place to make sure that everyone can access public spaces, including privately-owned establishments that are used by the public, such as restaurants, theme parks, hotels, and shopping plazas. While compliance with the law is mandatory, there are some circumstances that may affect compliance in certain spaces.  
In the original 1990 version of the law, the ADA stated that an establishment built before 1992 did not have to comply with all regulations and could be grandfathered-in without needing to change its design. The 2010 amendment, however, got rid of this clause, meaning that all facilities open to the public must be accessible. Instead, the law stated that any facility built before March 15th, 2012, does not legally have to comply with the 2010 regulations, and only has to be compliant with the original 1990 regulations, under a "safe harbor" clause. 
 Additionally, there is some flexibility in the law, so an establishment may not need to make drastic changes to be considered compliant. If, for example, complying with ADA regulations would cause an area to be fundamentally changed, such as having to pave a hiking trail, then alterations do not need to be made. Similarly, if removing barriers would cause significant difficulty or cause someone to use extreme means, such as blasting rocks at a wilderness facility, then regulations do not necessarily need to be met. The same rule applies to any potential changes that would conflict with other laws, such as disturbing an endangered species' habitat to try and make an area accessible. 
One last important note is that the need for a space to comply may be temporarily delayed if the size of an alteration would be unusually large or be so costly that it would put the space deep in debt. This delay will not last forever, though, and the space would need to eventually make alterations to become compliant.   
If you're unsure if your space fits into any of these categories, or unsure if you need to make an alteration to become compliant, consider finding a consultant and getting an ADA audit. 
By far the easiest way to avoid making changes would be to build a space with accessibility in mind from the beginning. Doing this not only saves you money, but also the stress of learning ADA law while your establishment is open to the public.
What Does "Accessibility" Mean in This Context?
The Office of Disability Rights defines the word accessible as, "referring to a site, facility, work environment, service, or program that is easy to approach, enter, operate, participate in, and/or use safely and with dignity by a person with a disability." It's important to know that there are no shades of accessibility; One space cannot be more or less accessible than another. Each space simply is accessible, or it is not. The ADA states that an area is accessible "only if all facilities, constructed features, and connecting routes are in full compliance with the applicable accessibility guidelines. Accessible refers only to specific facilities, constructed features, or routes that have been constructed or altered in compliance with all of the requirements of the applicable accessibility guidelines."
Key Elements of Accessible Spaces
Accessible spaces will include, but are not limited to, the following elements: designated parking spaces for people with disabilities, entrances that comply with ADA regulations, available ramps or elevators at places where levels change, bathrooms that are ADA compliant, and proper signage throughout an establishment. It should be noted that this list does not encompass all of the criteria to a space accessible, but instead just provides some basic examples of ADA requirements that an establishment must comply to. 
ADA Compliance for Tables
Dimensions of an Accessible Table 
According to the ADA, the surface height of an accessible table will be no more than 34 inches and no less than 28 inches above the floor. In addition to surface height, there are also table clearance requirements, which the ADA defines as, "at least 27 inches… provided between the floor and the underside of the table. " The knee clearance in width must be 30 inches minimum, and knee clearance depth must be 19 inches minimum. There should not be any obstructions, including table legs, in this clearance space. These requirements are all in place so that a person in a wheelchair can easily and comfortably sit at a table.  
It's important to note that ADA compliant tables often have two or four legs with 30" of clearance in between them. A table with only one leg may not leave enough room for knee clearance because of the center post and/or base. Many courtyard-style tables, even the ones that have a seat excluded for accessibility, can also fall short of ADA requirements if the table base extends on the floor and doesn't allow for 19 inches of clear space.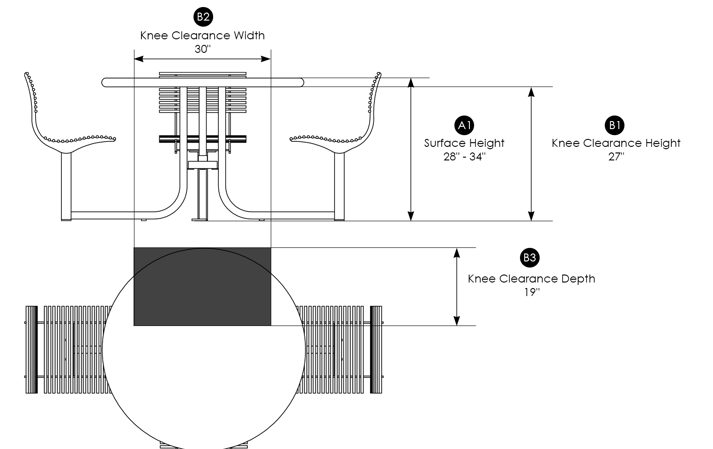 Accessible Thomas Steele Tables
Here at Thomas Steele, all of our 3-seat, dining height Courtyard Tables are built to be ADA compliant. We offer them in a variety of styles, so you have your choice of both the materials we use as well as the design of the table. The best part about these tables is that they can be viewed on our website with our 3-D configurator, which allows you to customize your own perfect table online and see what it will look like in real time. Then, once you're done customizing, you can view the table in your own space with augmented reality!
Another great accessible table option is our Walden Square Table. The Walden Square Table looks great, is built to last, and, like our courtyard tables, has seats that are attached to its base. For a Walden square table to be compliant, you must choose either our 2 seat or 3 seat options, as Walden tables with 4 seats do not leave sufficient room for a person in a wheelchair to sit.  
Placement of Accessible Tables
If your floors are not cleared of obstructions, then they could become dangerous tripping hazards or barriers. To prevent this, the ADA has regulations in place to ensure that the area around accessible tables is sufficiently free of obstacles.  
The ADA states that there should be an area of 30 inches by 48 inches of clear space at each accessible seating location. This ensures that there is enough space for someone to easily access their place at a table. Having this free space allows a person enough room to turn, adjust their chair, and easily remove themselves if necessary.  
Accessible aisles are also important to consider when creating a layout for tables. An accessible aisle is a route free from barriers that allows people with disabilities to reach accessible areas with ease. An accessible aisle is 36" in width, excluding the backs of seats and other obstructions.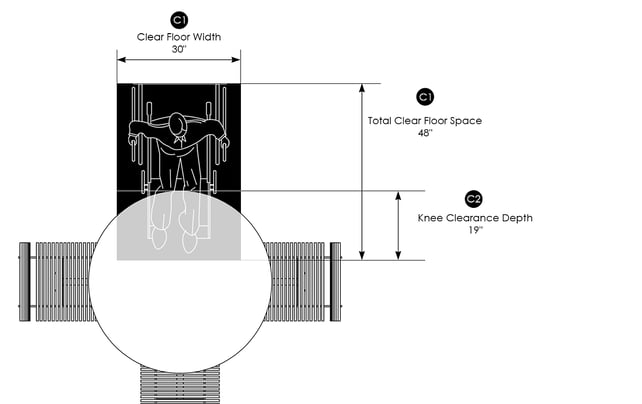 According to ADA guidelines, if the tables provided at an establishment are attached to the wall or fixed to the floor, then 5% of those tables, or at least 1 if less than 20 are provided, must be accessible. The ADA Guide for Small Business states that "If it is not readily achievable to provide the minimal number of accessible tables in all areas where fixed tables are provided, then the services must be provided in another accessible location, if doing so is readily achievable. However, these alternate location(s) must be available for all customers and not just people with disabilities. It is illegal to segregate people with disabilities in one area by designating it as an accessible area to be used only by people with disabilities." If possible, placing accessible seating throughout an outdoor area is best, as doing so both conforms to the law and creates a welcoming and inclusive environment for everyone. 
ADA Compliance for Picnic Tables
Dimensions of Accessible Picnic Tables
The ADA has the same height and width requirements for individual picnic table seats as with other standard tables, which includes knee clearance that must be at least 30 inches in width, 19 inches in depth, and 27 in height. The surface of a picnic table must also be between 28 inches and 34 inches above the ground.  

The number of wheelchair spaces required at an accessible table is also different, as it is related to the surface perimeter of a picnic table. A clear space of 30" x 48" must be made available for each 24 linear feet of usable space around the perimeter of the tabletop. Generally, one space is required for tables up to 9 feet in length. Tables between 10 and 20 feet long usually require two wheelchair spaces and longer tables will require more spaces. Additionally, the accessible seat must be clear so that a wheelchair can fit into the space with a forward approach.
Picnic tables also have more specific requirements for knee and foot clearance. If a picnic table has A-frame type legs, there must be at least 27 inches of clearance under the table at 8 inches of depth, and then 9 inches of toe clearance from the ground to the cross support. 
Accessible Thomas Steele Picnic Tables
At Thomas Steele, we offer several great picnic table options that comply with all ADA requirements. Our accessible picnic tables include our Fairway Picnic Table, Walden Picnic Table, Walden Park Picnic Table, and our new Monona Picnic Table.  
The Fairway Picnic Table is a casual picnic table that adds comfort and style to any outdoor gathering space. Both the 6 ft and 8 ft tables have a wheelchair accessible option, with one side of the table having a smaller bench to allow for wheelchair access. 
The Walden picnic table is another great choice. It fits in with a variety of settings and is also available as either an 8 foot or 6-foot picnic table. The dining height table is accessible and can either be an 8-foot table with 6-foot seats or as a 6-foot table with 4-foot seats.  
 Both the Fairway and Walden picnic tables are built around steel frames and come with your choice of either Ipe wood or recycled plastic tabletops and seats. Both table designs also feature freestanding bench seats, which will be mounted in the ground next to the table. 
The Walden Park Picnic Table, on the other hand, has benches that are connected to the table. Made of bent steel tubing and available at either 6 or 8 feet, these park style wood and steel picnic tables are also available in a wheelchair accessible configuration. 
The new Monona Freestanding Picnic Table is the last of our tables that we will be looking at today. This item is part of our popular Monona series, which is a collection of quality, attractive, and durable site furnishings. So, if you're looking to get a table that is part of a matching collection, this is the perfect choice for you! 
Placement of Accessible Picnic Tables
20%, or at least 2, of picnic tables need to be accessible in any location that incorporates them. 
The main difference between the placement regulations for picnic tables and tables in general is that accessible picnic tables require a clear ground space of 36 inches on all usable sides of a table in addition to the clear ground space for the wheelchair.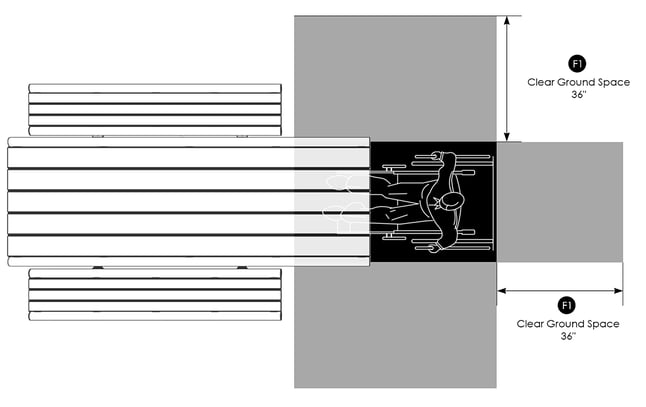 ADA Compliance for Benches
Dimensions of Accessible Benches
There are very little compliance requirements for benches. According to the ADA, benches should comply with Section 903 of the 2010 ADA Standards for Accessible Design, only when they are placed in: Saunas and Steam Rooms, Dressing, Fitting, & Locker Rooms, and Holding & Housing Cells.  
However, the United States Access Board Revised Draft Guidelines states, "Where benches without tables are provided at a single location, at least 50 percent, but no fewer than one, shall have a seat height at the front edge of 17 inches minimum and 19 inches maximum above the ground or floor space." This means that while there are no specific limitations or regulations about the placement of benches, at least some benches in a space must be at the height requirement. Here at Thomas Steele, every bench we manufacture meets these minimum requirements.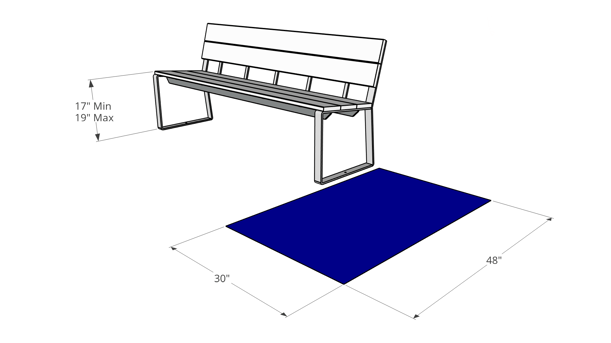 And, while not a requirement, The Access Board also suggests that, "Benches will be most useful if they have full back support and armrests to assist in sitting and standing." This means that while not required, benches with back and arm rests are preferable for many people with mobility issues.
Accessible Thomas Steele Benches   
Some examples of inclusive benches would be our Monona, Walden, Langdon, and Arcadia benches, as well as many more! They are all built with steel and are made to last in tough outdoor weather conditions. With the variety of different designs we offer, there are benches for any and every outdoor setting and style.
Placement of Accessible Benches  
And while there are only minimal ADA requirements for freestanding benches, we encourage everyone to create outdoor seating options that are accessible to all. When placing benches, consider providing clear space next to a bench so that a person in a wheelchair can sit side by side with their companions.  
Similarly, we suggest that you provide ample bench seating with back supports and armrests, so that people can safely and slowly help themselves onto and off of benches without risk of injury. By doing so, you are not only creating a safer environment, but are also creating one in which more people feel welcomed into your space.
Benefits of Making Spaces Accessible
There are many benefits to creating an accessible space. Most importantly, it helps create a warm, inviting area where all people can feel welcome. According to the CDC, approximately 1 in 4 Americans is classified with having a disability of some sort, with roughly 14 percent of that group having mobility issues. By creating a space that everyone can enjoy, you not only increase the number of patrons you receive, but also increase the likelihood of repeat visitors.   
Creating an accessible space also assists the growing elderly population, many of whom are people with disabilities themselves. By creating a safe environment for them to spend their time, you make a further positive impact on your community.  
Another reason why creating an accessible space is great is because it increases your pool of potential employees. Although section III of the ADA only applies to the public areas of establishments, creating a location that is holistically accessible means that you have a larger pool of candidates, and an environment where everyone feels safe at work. 
Lastly, because ADA is the law, having a non-accessible space could potentially lead to your establishment having legal issues. Becoming compliant prevents this, and additionally, if you are a small business, you may qualify for a tax credit. 
---
Related Resources