Recycled Plastic

Resources
Recycled plastic is becoming a popular material choice for site furnishings. You can easily tell why based on its characteristics. It's impervious to rot, mildew, mold, insects and salt. This means it will hold if form and look close to new for much longer than other materials. And it requires little to no maintenance to accomplish this.
With recent design improvements allowing recycled plastic to more closely replicate the look of natural wood and stone, at a lower cost point, it's time to get familiar with this product option.
Start by watching this 0:60 second video. Then continue to learn more with the resources below.
Recycled Plastic
Design
How close has recycled plastic gotten to looking like wood? It's pretty close. And because it's made from discarded plastic produced for industrial applications, it's a more sustainable option. Read More.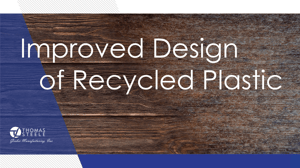 Learn more about recycled plastic as a material option for site furnishings. And make sure to download the one-page recycled plastic information sheet.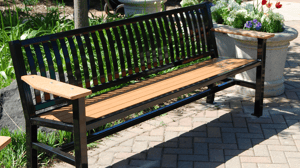 Download the one-page information sheet about recycled plastic.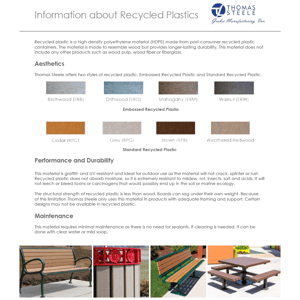 Recycled Plastic
Products