Custom Outdoor Furniture that Reflects Your Vision

Let Thomas Steele help make your vision come alive.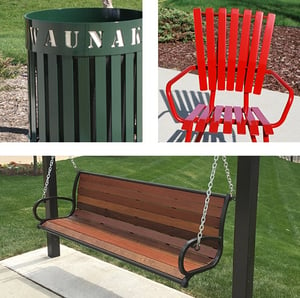 Your project requires more than generic, mass-produced site furnishings - it yearns for handcrafted custom outdoor furniture that is as innovative and unique as your vision.
Bringing your vision to life requires hard work and dedication to ensure every particular aspect of your design is met to your exact specifications. You can have custom made outdoor benches, tables, litter receptacles, chairs and much more.
What you can expect:
Custom, functional, durable site furnishing design

Fabricated with high-quality materials

Each piece shaped, welded, assembled and finished by skilled & experienced team
We have built our reputation on our ability to provide our clients with custom made site furnishings that bring their vision and design project to life.
Located in Waunakee, Wisconsin, we take pride in our efficient ordering, local manufacturing, and speedy shipping processes that get you your products right on time.
Contact Thomas Steele About Custom Site Furnishings